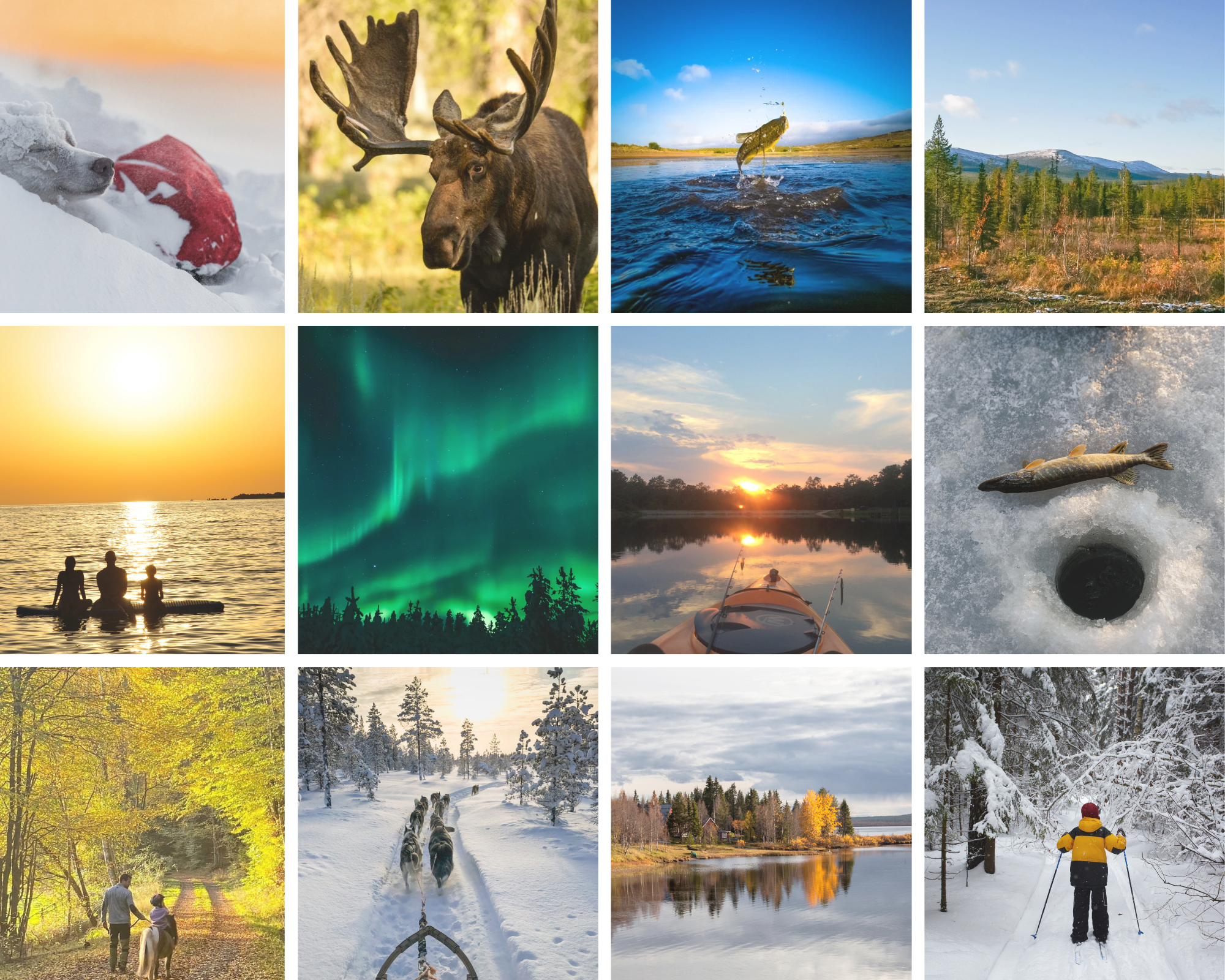 Experiences
(For German scroll down/Deutsche Übersetzung findet ihr weiter unten)
Lapland has so much adventures experiences waiting for you. A lot of them you can start directly in front of your accomodations and we can offer you equipment and/or guidance to the following:

In Winter starting from your accomodation:

- Dogsleeding

- Cross country skiing (we have around 30 km tracks prepared)

- Snowshoeing

- Skijöring (with dogs or ponys, and the possibility to use one of our dogs or ponys)

- Snowmobile tour with 1-3 people (for more we will gladly book a tour for you with one of our partners)

- Dog sleeding for mushers with their own dogs (we have 30-40 km trails waiting for you)

- Ice fishing


There is also a nice skiing resort 30 minutes away and a couple more within 30-60 minutes reach.


In summer starting from your accomodation:

- Fishing (our property is surrounded by lakes with boats waiting for you

- SUP (for the whole family and even with your dog(s)

- Canoeing

- Canicross and Dog-trekking (with your own dog(s) or one of our dogs)

- Pony riding (for children up to 6 years)

- Pony hiking

We also have improved partners for fly fishing and elk watching.

And maybe you want to discover the beauty of lapland on a dogsled pulled by a team of dogs or on the back of a cute icelandic horse. We can easily arrange these adventures for you.

Contact us for more information or if you would like us to plan your vacation.




Lappland hält so viele Abenteuer bereit, die nur auf Sie warten. Viele von diesen Erlebnissen können Sie direkt vor Ihrer Unterkunft beginnen und wir können Ihnen Ausrüstung und/oder Anleitung zu Folgendem anbieten:

Im Winter ab Ihrer Unterkunft:

- Langlauf (wir haben rund 30 km Loipen nur für unsere Gäste präpariert)

- Schneeschuhwandern

- Skijöring (mit Hunden oder Ponys und der Möglichkeit, einen unserer Hunde oder Ponys zu nehmen)

- Schneemobiltour mit 1-2 Personen (für mehr buchen wir gerne eine Tour mit einem unserer Partner für Sie)

- Hundeschlittenfahrten für Musher mit ihren eigenen Hunden (wir haben 30-40 km lange Strecken für Sie bereit)

Es gibt auch ein kleines, aber sehr schönes Skigebiet in 30 Minuten Entfernung und einige weitere innerhalb von 30 bis 60 Minuten.


Im Sommer ab Ihrer Unterkunft:

- Angeln (unser Anwesen ist von Seen umgeben, in denen Boote auf Sie warten

- SUP (für die ganze Familie und sogar mit Hund(en))

- Kanufahren

- Canicross und Dog-Trekking (mit Ihrem/Ihren eigenen Hund(en) oder einem unserer Hunde)

- Ponyreiten (für Kinder bis 6 Jahre)

- Ponywandern

Wir haben auch empfehlenswerte Partner für Fliegenfischen, Eisfischen und Elchbeobachtungen.

Und vielleicht möchten Sie die Schönheit Lapplands auf einem von einem Hundegespann gezogenen Hundeschlitten oder auf dem Rücken eines tollen Islandpferdes entdecken. Wir können diese Abenteuer ganz einfach für Sie arrangieren.

Kontaktieren Sie uns für weitere Informationen oder wenn Sie möchten, dass wir Ihren Urlaub planen